If you are feeling that you are running out of creamy pasta recipes, or simply want to try something new, what about this one which is made of creamed avocado.  I like fresh avocado in a big salad or guacamole style, but thought one day it's a shame not using this super nutritious tropical fruit in other ways.  Warm seasons are already around the corner where getting ripe avocados is easier and they get more affordable.  Why not give this butter in the field some fun twist?
Creamed Avocado and Lime Chilled Pasta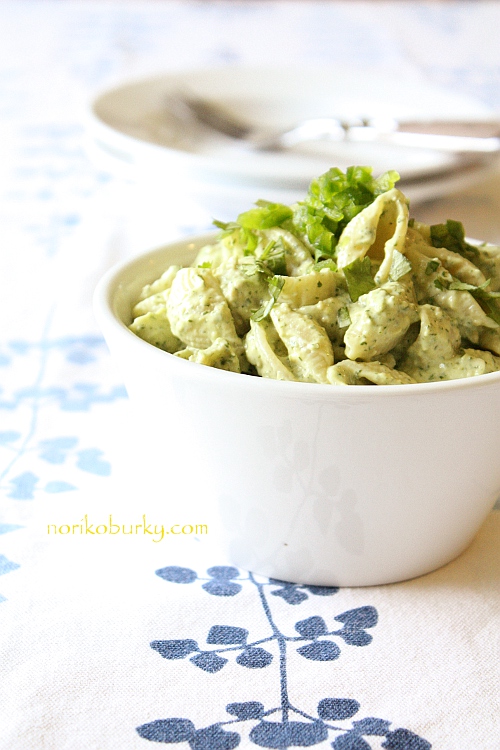 First and foremost, you will need a ripe avocado.
Cream it together with a bunch of cilantro, lime juice and mayonnaise.
The photos do not justify this springy spirit-lifting green color!
It's so silky and decadent, my family and I highly recommend trying it!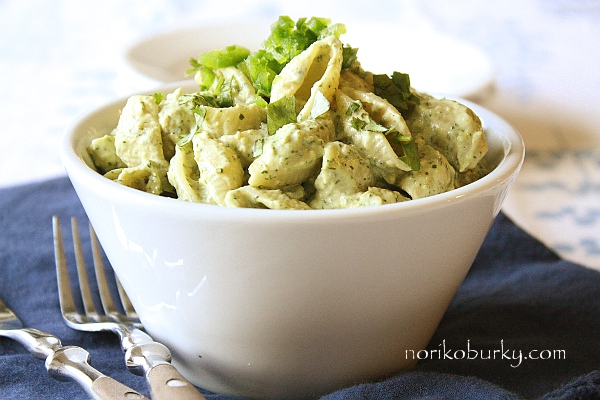 | | | |
| --- | --- | --- |
| Creamed Avocado and Lime Chilled Pasta | | |
Author:
Chilled pasta coated with a simple-tasting creamed avocado sauce.
Ingredients
1 1/2cup dry shell pasta or short pasta of your choice
1 ripe avocado
handful of cilantro, roughly chopped
1 1/2Tbsp lime juice
3Tbsp mayonnaise
1tsp garlic paste
salt & pepper
chopped cilantro and/or jalapeno for garnish
Instructions
Cook pasta according to the package instructions. Drain well, set aside to cool.
Peel avocado and remove the pit. Put it in a food processor together with chopped cilantro, lime juice, mayonnaise and garlic paste. Blend it until it's creamy. Add salt and pepper to taste. (Cover it with plastic wrap and keep it in a refrigerator if you have time.)
Transfer the avocado sauce to a medium sized bowl. Add cooked pasta and toss them well. Sprinkle chopped cilantro and/or jalapeno on top.
Notes
I used chopped jalapeno on top for garnish but you can also put jalapeno in a food processor to blend in the sauce for spiciness.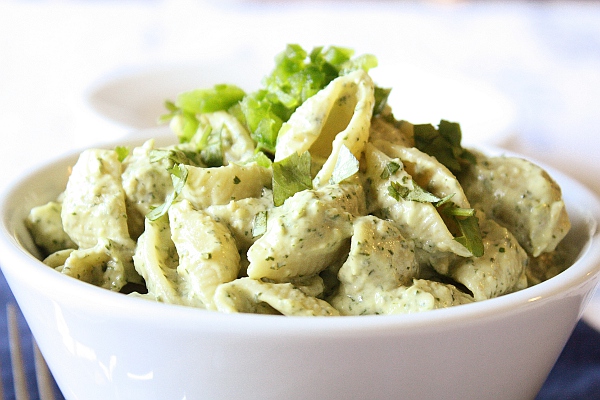 As I mentioned in the last part of the recipe, I chose to use chopped jalapeno as a garnish so my son who has not yet built up his tolerance to heat can have options.
Ina Contessa of "Barefoot Contessa" (who I adore from the bottom of my heart, by the way) once said on her show that she thinks there are two kinds of people in the world: ones who like cilantro and ones who don't.  I'm one of the first ones.  It is a kind of herb I preferred not having it in my food before, but somehow along the way of my life, this worldly familiar herb got me in its whelm.  The fresh smell of cilantro while chopping takes me to a happy cooking wonderland right in my kitchen.  Also, when it gets bruised during chopping, it lets you know that your knife needs to be sharpened.  Even with a very sharp knife,  chopped cilantro darkens in color after a while so I normally chop them up right before garnishing.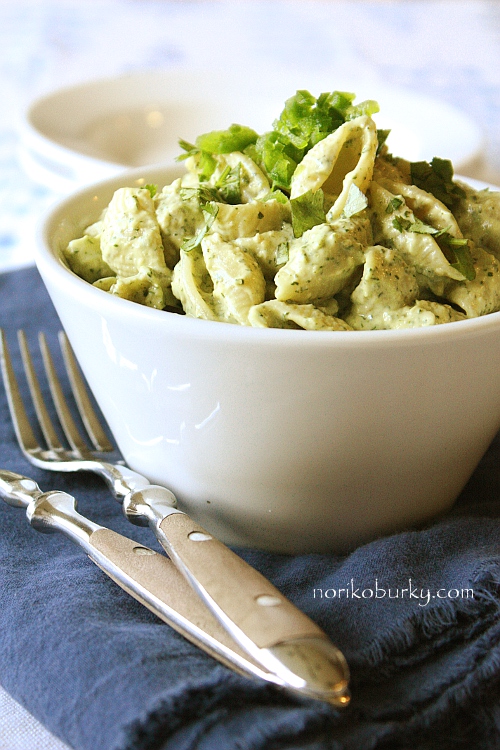 This dish, I made a few days ago when we were enjoying summer-like whether, makes a perfect side dish or a part of a nice entree in warm seasons.  Or you can add other fresh vegetables such as tomatoes and cucumbers and cubed ham or crispy bacon chips to make an elegant salad.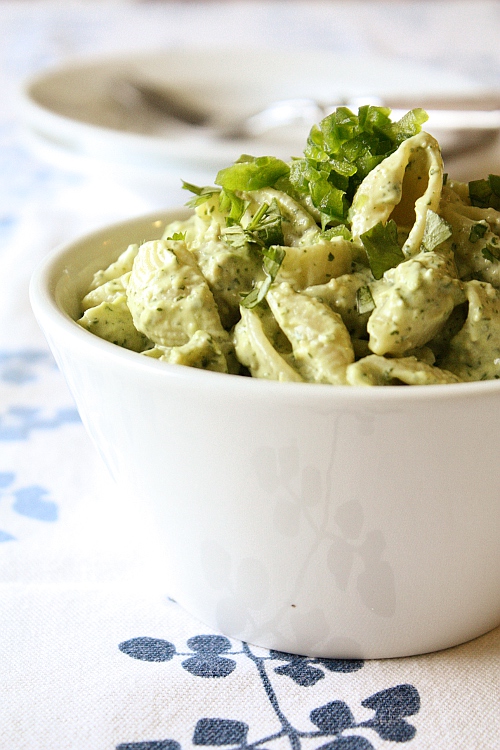 On the other hand, chilly weather came back today.
As it always happens at the ironically right moment, our furnace was not cooperating with me and wouldn't kick on.  Cold but not bad enough to start a fire…
I dragged a jacket from a pile of winter clothes in my closet,
brought my favorite blanket downstairs and cuddled in the sun with a book.
It was such a peaceful moment and felt almost like it was a sin to ruin by worrying about the laundry and all the tedious choirs.  Trust me I do not make that kind of crime.

P.S.  You can now write comments in Japanese, also.
My apologies to those whose comments could not be shown correctly.
日本語書き込みもオッケーになりました。
これまで文字化けしてしまったコメント主さま、ごめんなさい。