Don't you love having cheerfully colorful munchy food as a part of your meal?
Just including some light finger-food on your plate can instantly turn a regular meal into a family party.
Tonight, I made my family style nachos.  Leaving the evaluation to my readers of "is it bad-boy enough?" like I mentioned at the end of my last post, I think it came out very good.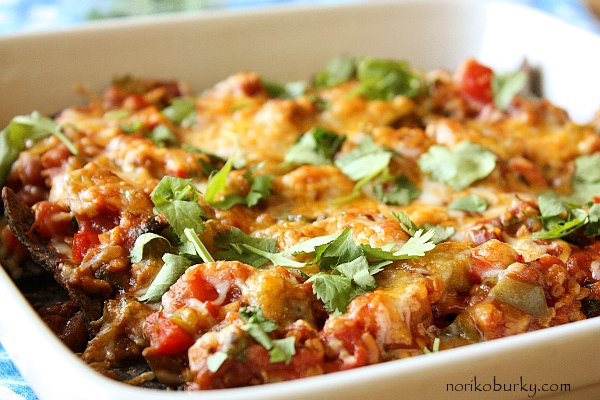 I started with blue corn tortilla chips on an oil-sprayed casserole dish, and poured my "Smokin-delish Vegetarian Chili Beans" generously on top.  I then added store-bought peach & pineapple salsa and sprinkled shredded cheese on top.  Baked it in 450 degree oven until chips are nice and warm and the cheese is well melted.  Sprinkle chopped cilantro for freshness.
Let me share my "Smokin-delish Vegetarian Chili Beans" with you today.
It's interesting when I think of it, but I've never once made Chili with real meat, while I have a good number of experiences in both making and eating someone else's vegetarian versions.   My husband makes no-meat chili using Guiness which is absolutely exquisite!  Yet, I think my chili, which I'm about to share, is as good as his to be humble, and I want to scream that it's out of this world good toward the bottom of the well just like the barber in the Greek Myth "The King MIDAS has Donkey's Ears".
Smokin-delish Vegetarian Chili Beans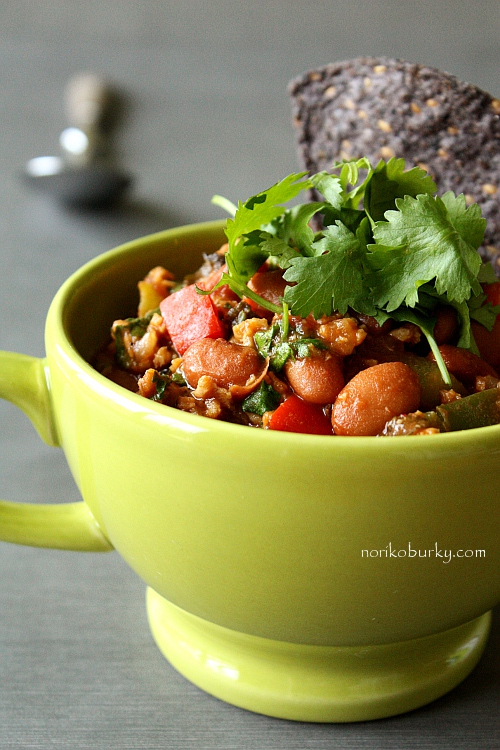 | | | |
| --- | --- | --- |
| Smokin-delish Vegetarian Chili Beans | | |
Recipe Type:
Entree, Main
Author:
Healthy and hearty meat-free Chili Beans.
Ingredients
1/2 onion, chopped
5 cloves garlic
2 Tbsp olive oil
1 tsp steak seasoning
1 tsp liquid smoke
1/2 cup textured vegetable protein (TVP)
1/2 tsp salt
1/4 tsp black pepper
1 green bell pepper, cut into small pieces
1/2 red bell pepper, cut into small pieces
1 can (14oz) whole tomato, tear into small pieces by fingertips
1 can (15oz) pinto beans
1 cup water
1 vegetable bouillon, crumble into small pieces.
2 Tbsp tomato paste
1/2 Tbsp ground cumin
1/2 Tbsp ground coriander
1/2 tsp red chili powder
1/2 Tbsp Worcestershire sauce (may contain anchovies)
1 1/2 tsp brown sugar
handful fresh cilantro, chopped
Instructions
In a pot, heat olive oil over medium heat. Cook onion and garlic until onion is translucent but not burned. Add steak seasoning, liquid smoke, TVP, salt and black pepper. Stir well. Add bell peppers, cook another minute.
Add rest of the ingredients except chopped cilantro. Mix them well and simmer uncovered for about 20 mins. stirring occasionally.
Remove from heat, mix in chopped cilantro. (Leave some cilantro for garnish.)
Notes
This recipe is made on the mild side, adjust the amount of red chili powder for your taste.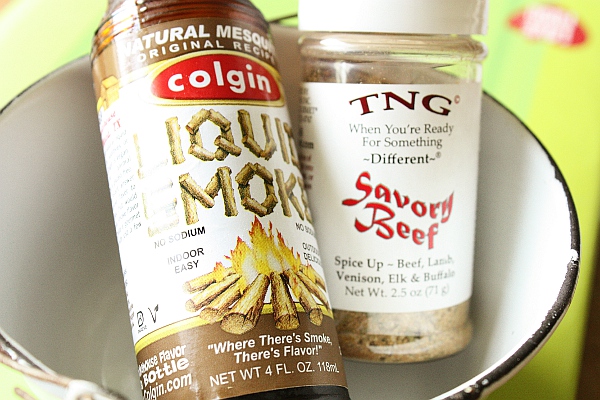 When making meat free chili, it's a challenge to produce the scorchy appetizingly complicated flavor that only animal products can make.  Well, these items which you can easily find in the spices & sauce isle in grocery stores can make it happen with no effort.
I can see those outdoor grillers making faces at liquid smoke.  Yes, I do agree it is not quite the same as grilling, but it's a very convenient and effective magical ingredient to have if you are cooking in your kitchen.  You can also avoid all the hassles you would have to go through with a smoke detector going off on you.  Hwoo woo woo…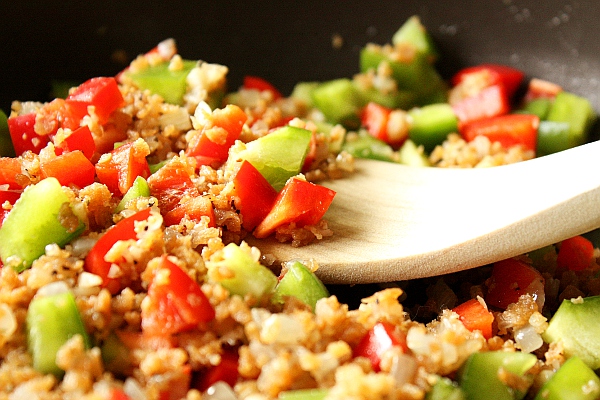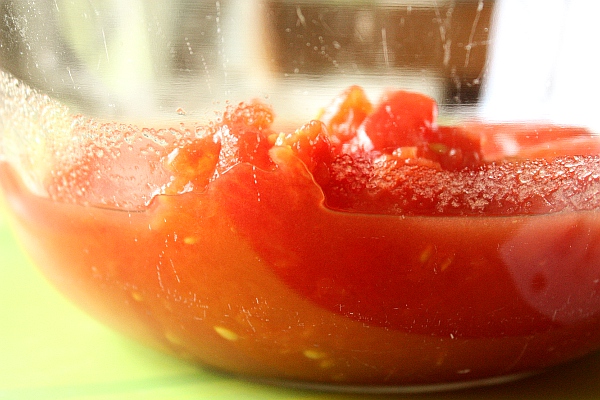 We are spoiled when it comes to canned tomatoes.  They come in all kinds of shapes and styles.  Among those, my favorites are stewed tomatoes and whole tomatoes that have already done most of the preparation but still allow you to play around with.
In this recipe, I used whole tomatoes but you can substitute with crushed tomatoes or small diced tomatoes.  I just personally preferred whole tomatoes to tear then into pieces for irregular sizes for the look and the fun texture to enjoy every bite.
I bought this Blue Corn Chips with White Flax Seeds from Target.  It's their Archer Farm brand, two bags for $5 or so.  I have to completely agree with my husband that this is THE best store-bought corn chips we ever had so far.  The amount of salt they use is so well under control and the nutty flavor that flax seeds adds to it is very satisfyingly flavorful.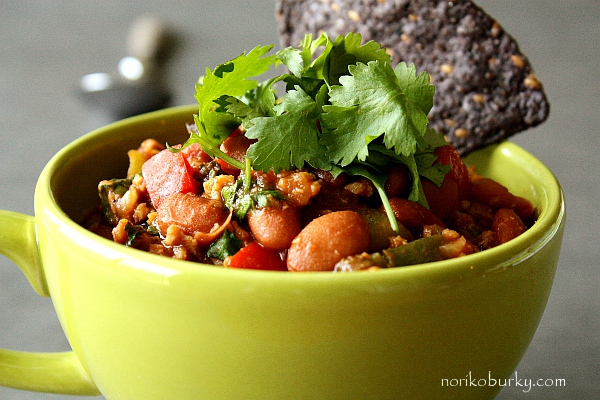 P.S.  You can now write comments in Japanese, also.
My apologies to those whose comments could not be shown correctly.
日本語書き込みもオッケーになりました。
これまで文字化けしてしまったコメント主さま、ごめんなさい。