To make it clear I say from the beginning that I'm no baker.  But I love to eat those sweet desserts that melt in your mouth and make you think "this is what I worked hard for all day!".  Although this self satisfactory mumbling can be irrelevant often times because I enjoy those sweets as breakfast.  Load myself with sugar and caffeine from coffee, that's how to make a happy mom 🙂  Anyway, I remember telling myself the first time I was at an American grocery store that I would try making all the cake mixes I can find in the bakery aisle (and also try all different types of cereals).  In that matter, I had given myself generous amounts of grace time before running out of excuses before starting to bake.
I had a bag-full of fresh strawberries in my fridge which was not fresh enough to eat as they are, but I didn't want to make jam because we still have a jar that needs to be consumed.
That's how I came up with this no-bake layered cake.
Cuatro Leche Layered Graham Cracker Cake with Strawberries
The recipe may be a bit confusing since it requires separate preparation for each creamy goody.  Below is the simplified flow of the process.
* Prepare custard
* Prepare strawberry sauce
* Soak Graham crackers in milk mixture and construct
* Make whipped cream and decorate the cake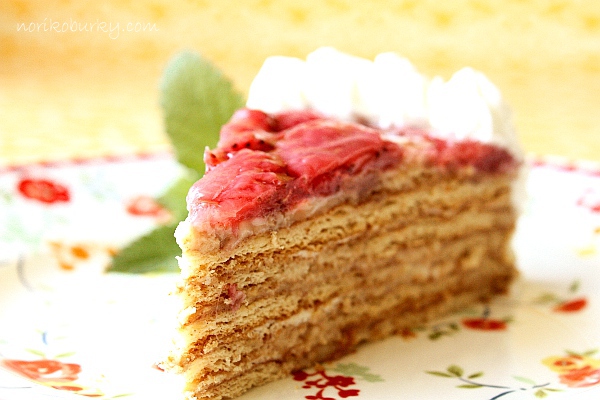 | | | |
| --- | --- | --- |
| Cuatro Leche Layered Graham Cracker Cake with Strawberries | | |
Author:
Incorporating four different kinds of milk products, no-bake cake.
Ingredients
For the custard***
2 cups 2% milk
3 Tbsp sugar
1 tsp vanilla extract
2 egg yolks
3 Tbsp bread flour
For the strawberry sauce***
10 large strawberries, sliced
2 Tbsp sugar
1 tsp lemon juice
2/3 cup water
1 1/2 tsp unflavored gelatin
1 Tbsp water
For soaking Graham crackers***
1/2 can evaporated milk (6 FL oz/about 180ml)
1/2 can sweet condensed milk (7 oz/about 200ml)
1 box Graham crackers (14.4oz/480g)
For the whipped cream***
1 1/2 cup whipping cream
3 Tbsp sugar
Instructions
Firstly, make custard. Put milk, sugar and vanilla extract in a pot and place it over low-medium heat, stirring continuously. Separate egg yolk from the whites in a small bowl, break them. Keep stirring the milk mixture, make sure it doesn't come to a boil. Scoop a tablespoonful of the milk mixture into the yolks and mix them well. Spoon 2 more scoops in, stir well each time. When the temperature of the egg yolks has raised this way, pour this back to the pot of milk mixture. Sift bread flour in to the mixture as you stir so it won't form lumps. Remove from the heat when it thickens slightly.
In another pot, heat sliced strawberries, sugar, lemon juice and water over high heat. When it gets bubbly, lower the heat then simmer for 8-10 mins, skimming occasionally. Remove from heat. In a small bowl, combine gelatin and water. Microwave it for 5-6 seconds. Pour it into the strawberries, mix well and let it sit to cool.
Grease a 9 inch (22.5cm) round cake mold. In a large bowl, mix evaporated milk and sweet condensed milk together.
Soak Graham cracker in the mixture, one cracker at a time, then place it in the cake mold. Repeat this to fill the bottom of the mold flat. Spread the custard over it. Stack another layer of soaked Graham cracker then spread the whipped cream. Repeat this step until you run out of Graham crackers.
Pour the strawberry sauce (step 2) over on the top and spread it evenly. Chill it in refrigerator over night or 6-10 hours.
Place the cake on a large serving plate, remove the outside ring of the mold. Decorate it with whipped cream.
Notes
I used a round cake mold with a detachable clip on the side because I wanted to decorate the side of the cake to finish. However, you can make this in a rectangular casserole dish and serve directly from it.
Be very careful when you take the gelatin-water mixture from the microwave since it's very hot.
Break soaked Graham cracker into small pieces to fill the gap in each layer.
Whew!  That must be the longest recipe I ever made!  It all started from saving those strawberries that needed to be used urgently.  Although the recipe makes it look like a load of work at a glance, perhaps a picture of the cut section will give you a better understanding of how the cake is made.
When chilling it in the refrigerator, I placed the whole cake mold on a big plate, hoping that would catch any liquid if there is any sweet leakage from the bottom.  Yes, that turned out to be a good idea.
As an afterthought, the top strawberry part could have come out more bright red if I had used strawberry flavored gelatin instead of clear one.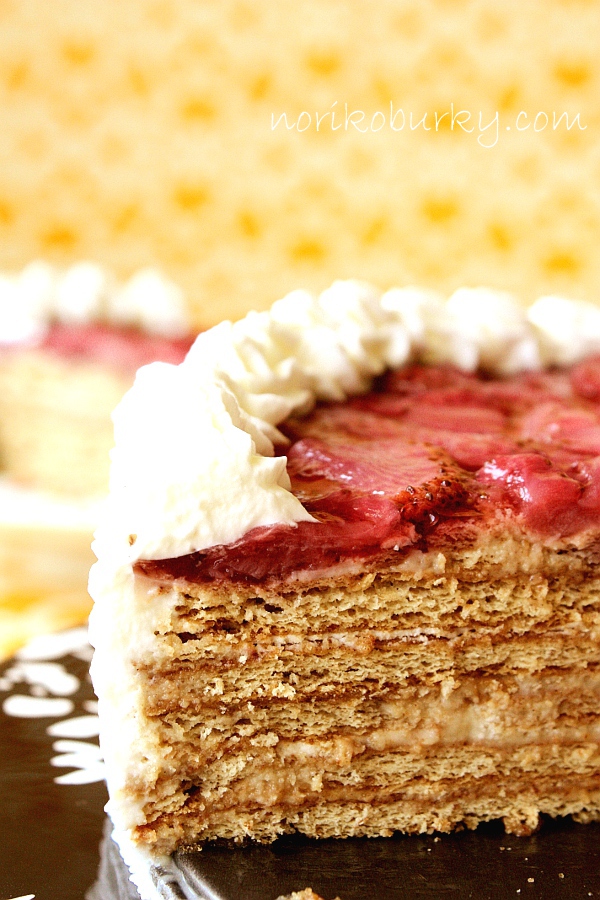 I used to work part time at a cake store when I was in college a loooong time ago.
There they had a cake called "Napoleon" which looked very much like this.  It was about $4.50 per piece at that time and was always majestically placed at the top corner of the shelf, making all the other cakes fainter, it's dignified appearance made to look that way at least to me.  If I get lucky, I could take some of the unsold cakes home for free but Napoleon was never an option because it ALWAYS sold out.  I wonder if it is still keeping its position in the store after this many years…
This is actually my second try making a dessert with these milk, evaporated milk, sweet condensed milk and whipping cream combination.  Here is my "Cuatro Leche Quick Sundae" that I made last year, in October.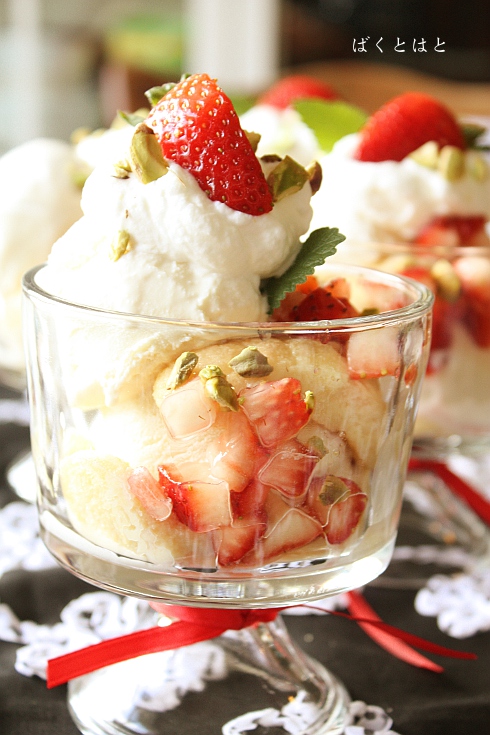 For this, I used lady fingers instead of Graham crackers.
Just soak them in the same mixture for a few seconds and randomly lay in the serving bowl.  Top them off with chopped strawberries and vanilla ice cream!
Since it takes no time for assembling each serving,  this dessert saves time and labor especially when entertaining many guests.