Easter is approaching along with this kind yet temperamental spring weather.
A girl next door knocked on our door late this afternoon.  My son had gone fishing with his daddy so I felt sorry for having to tell her that he is not home to play.  She didn't seem disappointed by my answer and asked me if I wanted to come see baby bunnies.  In my experience, a baby bunny was about the size that fits nicely in my palm, but soon I realized that she really meant "baby" bunnies.
We walked to the side of her house on the slope that leads to the backyard and she yelled "there!" pointing her finger toward the side of her house's concrete base wall.  All I could see was a small pile of straw.  She then carefully rake away the straw with her small hands.  Underneath was a fuzzy layer of white fur.  It took me another 20 seconds to notice those little tiny ears about the size of my pinky fingernail.  We didn't want to disturb their comfortable environment and as importantly, didn't want to scare the mommy rabbit, who was very likely watching her babies safety.  So it's only my guess measuring from the size of their ears I saw, they must be as little as golf balls.
It's partly surprising to see them surviving through already a couple lawn mowings, and heart-warming to see all the protection the mommy rabbit has given to them.
I hope to see then hopping around here soon and seeing their mommy rabbit almost losing herself just like I do…
There goes another happy Sunday afternoon…
I thought a fun and easy and nutritionally loaded dinner would be perfect.
For the main entree of tonight's meal, I chose bulgur wheat which is abundant in protein and fiber.  Also rich in B-vitamins, which I learned about a lot from SUNNYLAND MILLS and over-simplified the details, thus my description lacks in lot more valuable information.
Seeking a more complicated and enjoyable texture, I added a small amount of orzo pasta.
Cooked them in bouillon together with butter, salt & pepper, it came out more than satisfying!
Bulgur Wheat & Orzo Salad with Cucumber Yogurt Sauce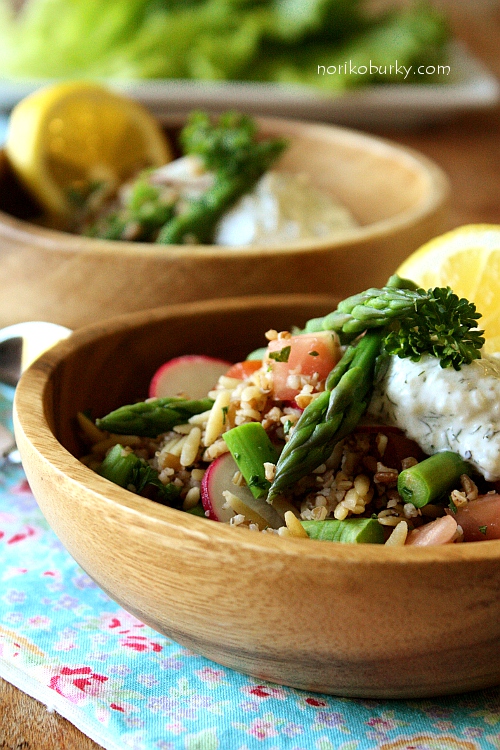 | | | |
| --- | --- | --- |
| Bulgur Wheat & Orzo Salad with Cucumber Yogurt Sauce | | |
Recipe Type:
Salad, Entree
Author:
Flavor-fully cooked bulgur wheat and orzo pasta, mixed with fresh vegetables. Creamy yet refreshing cucumber yogurt sauce complements this healthy dish to its best.
Ingredients
1/2 cup bulgur wheat
1/4 cup orzo pasta
1 Tbsp butter
1 vegetable bouillon
1/4 tsp salt
1/4 tsp black pepper
1 1/4 cup water
1 cucumber
1/2 cup 2% fat Greek yogurt
1 Tbsp lemon juice
1/2 Tbsp olive oil
1/4 tsp garlic paste
dash of salt & pepper or to your taste
1 tsp chopped dill, dry or fresh
1 medium size tomato, cubed
5 stems asparagus, cut into 1/2 inch long, blanched and drained
3 radishes, sliced
2 Tbsp chopped parsley
Instructions
In a 3qt. pot, put bulgur wheat, orzo pasta, butter, salt & pepper, vegetable bouillon and water. Bring it to a boil uncovered over high heat. Stir well to make sure bouillon is completely dissolved.
Turn the heat to medium-low, put the lid on, simmer for 9-10 mins. Let it stand for 5 mins. with the lid on., Fluff it up with a spoon, cool it down while preparing the rest of the dish.
Now for the sauce, peel cucumber, cut it in half lengthwise. Remove the seeds with a spoon and grate it. Spread a cheese cloth over a bowl, pore in grated cucumber on it. Gather all four corners of the cloth and squeeze out the juice. Discard the juice.
Combine grated/drained cucumber with Greek yogurt, lemon juice, olive oil, garlic paste, dill and salt & pepper. Keep it in refrigerator until served.
Once the cooked bulgur wheat and orzo pasta are cooled enough, mix in tomato, asparagus, radish and parsley. Serve it with the cucumber yogurt sauce.
Notes
This can be made in numerous variations. Replace the vegetables with your favorites or what you have in hand.
Make sure to dissolve bouillon in step 1, otherwise it won't be flavored evenly and very likely burn the bottom because of bouillon sediments.
Have bulgur wheat, orzo pasta, butter, vegetable bouillon, salt & pepper ready in a pot.
Then add water.  Cook it and let it stand for steaming.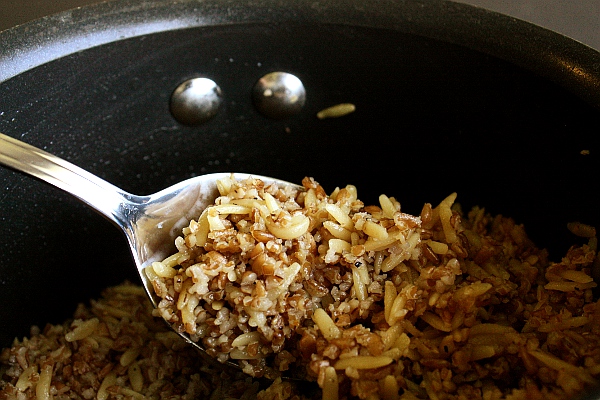 This is how it looks after cooking and fluffing it up.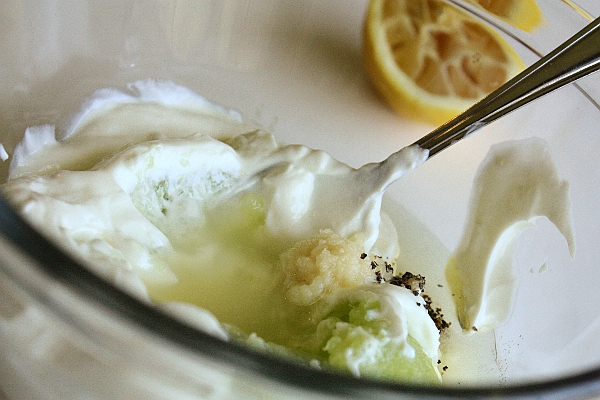 Make the sauce by combining cucumber, Greek yogurt, olive oil, lemon juice, garlic paste, salt & pepper and dill.  You can make the sauce while cooking the grains as above, but I preferred to do each step in a take-it-easy Sunday way.  Take my time and keep a close eye to each step.
Accompanying with cucumber yogurt sauce (tzatziki sauce) turned out marvelous.
They complemented each other in taste and texture.
Dinner was completed with slices of bread and chips & salsa.
We had blue corn chips that has dots of white sesame seeds, (later I found out that it was FLAX SEEDS) and we became fans of it right away.  Maybe I will make nachos in a "bad boy" style tomorrow with them.

P.S.  You can now write comments in Japanese, also.
My apologies to those whose comments could not be shown correctly.
日本語書き込みもオッケーになりました。
これまで文字化けしてしまったコメント主さま、ごめんなさい。