A fun part of making trips to a grocery store where you don't go regularly is finding unexpected stuff.  Hummus is an example, along with some familiar flavor options like garlic, herbs, roasted bell pepper, etc…, finding uniquely flavored ones makes your trip worthwhile.
Just like white fish, hummus is like a white canvas to me.  It has tremendous possibilities for adding flavor and the cook's personal touch.  (…and of course their cravings…)
Indian Hummus with Mango Chutney on Tortilla Wedges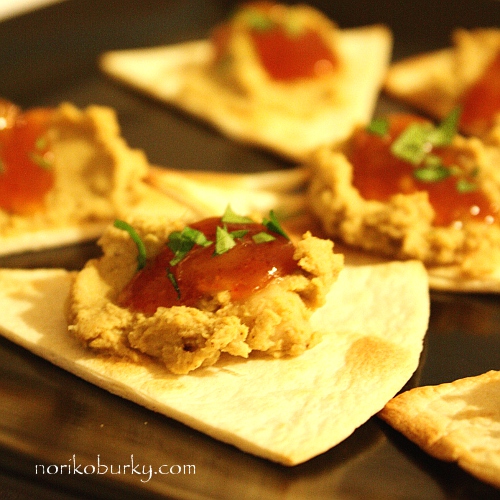 | | | |
| --- | --- | --- |
| Indian Hummus with Mango Chutney on Tortilla Wedges | | |
Recipe Type:
Appetiser, snack, side dish
Author:
Everybody's favorite Middle Eastern dish with an Indian flavoring.
Ingredients
16oz can Garbanzo beans
1tsp garam masala
1tsp coriander powder
1tsp cumin powder
1tsp garlic paste
1tsp minced ginger
2Tbsp Tahini sauce
2 1/2Tbsp lemon juice
2Tbsp water
1Tbsp olive oil
salt & pepper to taste
tortillas cut into wedges
mango chutney for topping
Instructions
Put all the ingredients from Garbanzo beans to salt & pepper in food processor. Puree it.
Spread spoonful on each tortilla wedge and top off with mango chutney.
The picture above was actually taken the last time I made this, sometime back in December.  I used wedges of tortillas just because that's what I had that day, but pita chips or toasted thin slices of baguette would work well, too.  I intentionally made this on the mild side for my son to enjoy, but topping it off with a bit of Mango Chutney gave it a convincing final touch.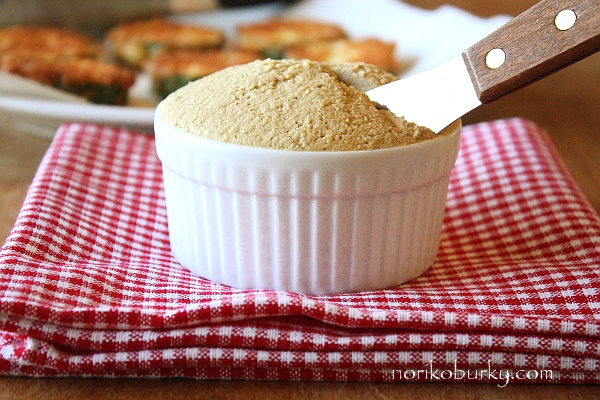 "Indian hummus!  It's so obvious!"  My husband says.  "They work so well when you think of it.  Why doesn't anybody sell it?"  Blowing my own trumpet as the cook who made it, I wonder that, too 🙂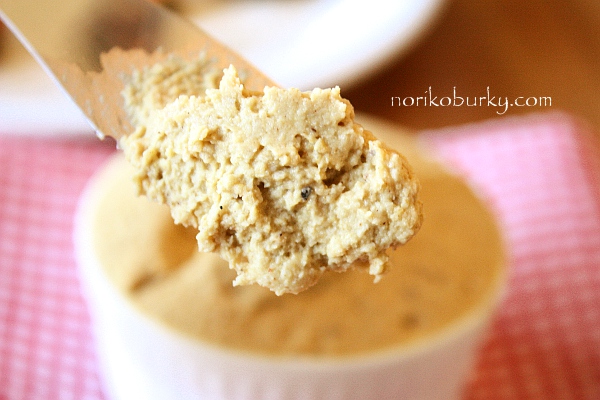 The picture below is part of the meal the next day, using the leftover Indian Hummus.
Spread it on lightly toasted English muffins and fan slices of radish.  The modest texture of the bread, creamy hummus and crunchy radish, all together worked for a nice light meal.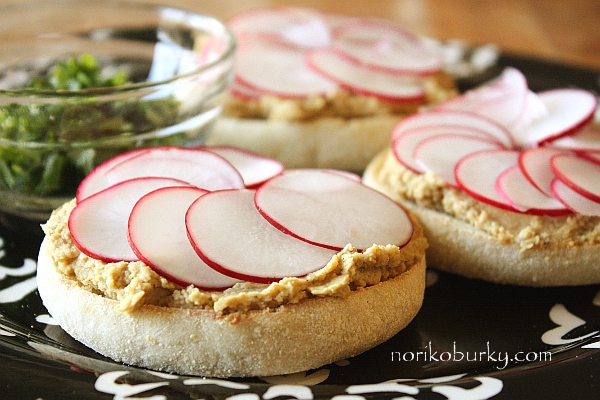 I like cost-conscious recipes in which you can make in big portion and arrange the leftovers.  I have finally gotten used to it but making a meal for a small family like mine often requires careful measuring for each dish to make the perfect amount.  I'm quite comfortable to say not many people like doing that.  Turning leftover dishes into something different is a good skill to develop for your own good.  Imagine you have…say, potatoes, zucchini, yellow squash, tomatoes, peppers, onions from a store one day.  Which is easier and time/money saving to make: a 2-3 yield of vegetable soup in one day then make ratatouille the next day using the veggies left in the fridge, or make 5-6 yield of vegetable soup then thicken it and use it for a rich base for ratatouille?  You can get the satisfaction of the fact you've made the base by your self from scratch instead of store-bought instant stuff.