Although going to the neighborhood grocery store and wandering around for some fun food is one of my favorite hobbies, having to run for just a few ingredients to make a planed meal complete was the last thing I wanted to do after a relaxing Sunday afternoon.
Luckily I had a bag of imitation crab meat in the freezer which I kept for cooking with octopus to make something called "DAVY JONES" from the movie Pirates of the Caribbean and an instant mash potato mix in the pantry. Since we also had leftover Mac & Cheese deep dish pizza in the freezer from the other night, I decided to make croquettes for a side dish.
Although croquettes seem to be considered a time consuming and labor intensive dish,
they are actually very versatile in terms of ingredients. You can also make a bunch of them ahead of time and refrigerate them. Just fry them when you're ready.
Zucchini and Crab Croquettes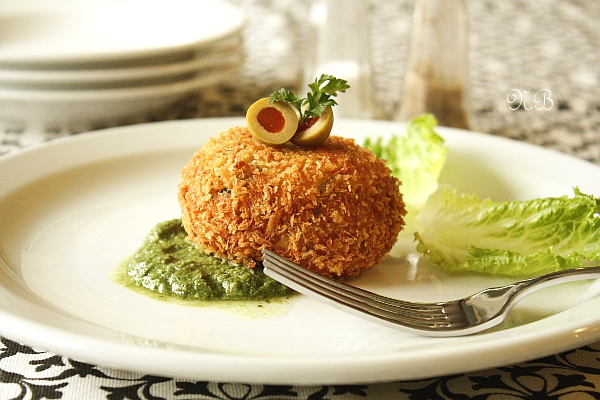 | | | |
| --- | --- | --- |
| Zucchini and Crab Croquettes | | |
Recipe Type:
Main or Side Dish
Author:
Imitation crab meat, zucchini and mashed potato, breaded and shallow fried.
Ingredients
10 oz imitation crab meat
1 zucchini
2 Tbsp chopped parsley
1 egg
3 Tbsp mayonnaise
1 Tbsp Dijon mustard
1 pkg (4 oz) IDAHOAN Roasted Garlic Mashed Potatoes
1/2 cup all purpose flour
1 egg + 1 Tbsp water
2/3 cup panko
canola oil for frying
Instructions
Crumble imitation crab meat by hand and squeeze any liquid out if it.
Shred zucchini with the skin on.
In a large bowl, combine with chopped parsley, egg, mayonnaise, Dijon mustard and IDAHOAN Roasted Garlic Mashed Potatoes. Mix well until all gets moistened.
Divide in to 6 equal portions and form into ovals. Coat each with all purpose flour then egg wash (egg + water), then panko.***See note below.
Heat oil (about an inch deep) in a frying pan on medium high heat,
fry croquettes on each side till golden brown.

Here's the instant mash potato mix I used for today's recipe. It works as a perfect binder and also much healthier than adding cream sauce made of butter, flour and milk. And off course, it's EASY!
I've used this with a different flavor for gnocchi before and that worked wonderfully, too.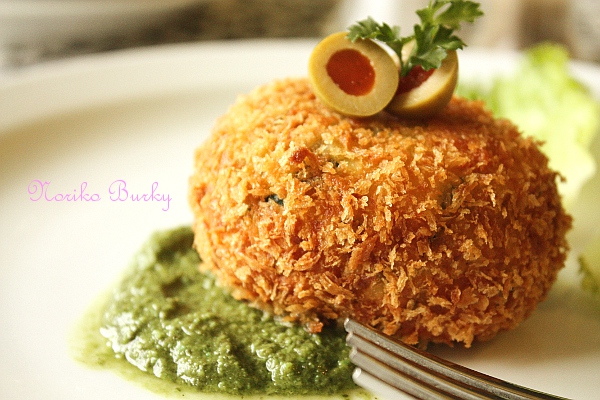 I tried my first bite with mint chutney. I guess it wasn't the most wonderful sauce to go with this crabby dish or maybe it was just me, lol…
I would suggest tartar sauce or your favorite tomato sauce.
By the way, my family looooves green olives that come in a jar. One day when we were shopping in a then newly opened grocery store known for their generous variety of sample foods, my son shouted excitedly "Daddy! These green olives have green pimentos!!" Without giving us even a second to take a look, he threw one in to his mouth. We instantly found out what these 'green pimentos' were. Chopped jalapeno was a bit too much for a boy who thinks pepperoni slices are already beyond his limit. As you can imagine he did everything he could to cool down his poor mouth, jumping around with his hands flapping like a bird learning to fly, breathing in and out with tears in his eyes.
I've never seen pimentos being used in any other food than in green olives. Very possible that I just haven't had a chance to see it in different ways or have passed without recognizing them. As we were laughing at today's table talking about the episode, our son was again amazed by how a pimento fits perfectly in this little green ball. Then my husband concluded "Yep, they are made for each other." What a sweet way to put it. I still don't know what a pimento is (the ingredients on the label on a jar just says 'pimento') but it doesn't matter after hearing this. Hey, they are made for each other, what else is more important? Just eat them! Enjoy them!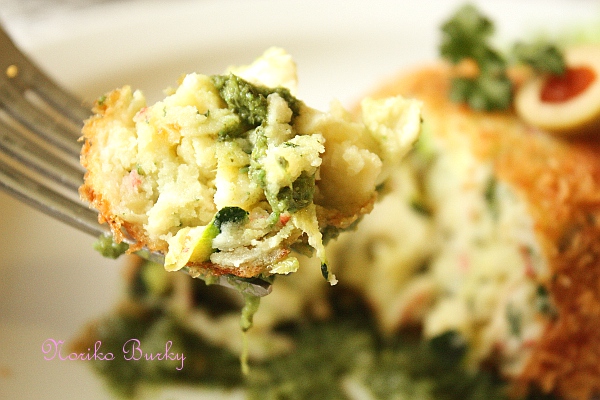 Bon Appetit!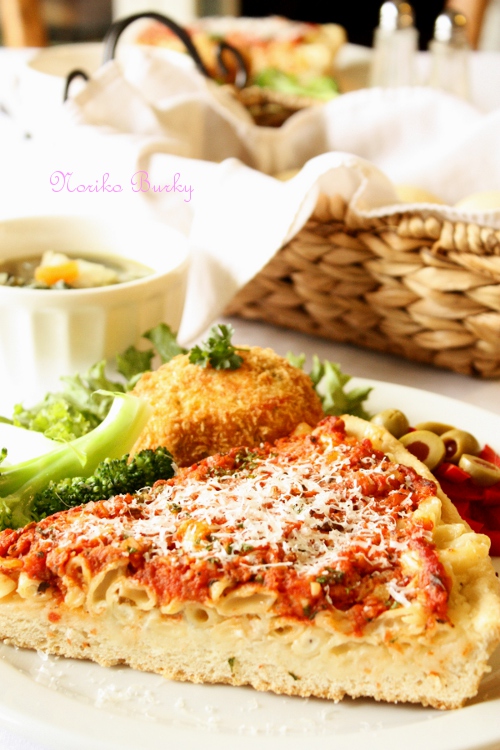 Here's the Mac & Cheese deep dish pizza I mentioned earlier.
My husband and I have been working on coming up with several pizza recipes to call our own. Everything is made from scratch from the crust to the sauce. We have been successful with our very first basic pizza and this is the second one in which we challenged ourselves with slightly more adventurous toppings. Just stay with me cause I'm already excited about sharing our pizza stories.
Have a nice one!