Among many vegetarian sausage substitutes, the one I prefer even over real meat products is the Meatless Breakfast Links from BOCA.  I don't know what it is exactly but maybe has something to do with the spices they use.  Recently, I was chopping those defrosted links up, sneakingly munching some of the end pieces, and was planning to add them to a tomato sauce pasta.  I had the pasta cooked and everything was ready to combine when I realized I didn't have tomato sauce.  There I go again, getting excited playing a game without checking the cards I have in hand…half freaking out and the other half of my mind getting excited with the challenge I encountered.  Sticking my head in the refrigerator, searching for some substitute candidate.  A-hah, basil pesto!  Sausage and basil pesto was a combination I had never tried before but why not?  Also, I was running out of choices already.  Surprise, surprise.  They worked incredibly well together.
Long story short, that is how I came up with this gravy sauce.  Not just the herby fragrance from the basil, but the nutty flavor and the cheese in the pesto worked pretty well.
Basil Pesto Meatless Sausage Gravy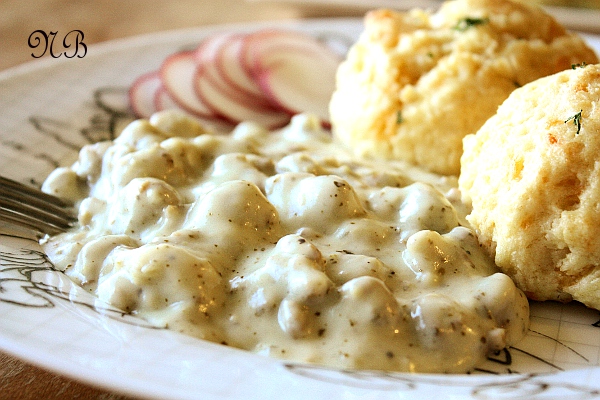 | | | |
| --- | --- | --- |
| Basil Pesto Meatless Sausage Gravy | | |
Author:
Ingredients
1 pkg BOCA Meatless Breakfast LInks
2Tbsp olive oil
3Tbsp basil pesto
1/2cup all purpose flour
3cups 2% milk
1/2tsp salt
1/4tsp black pepper
Instructions
Defrost BOCA Meatless Breakfast Links in microwave. (I usually open up the plastic packages on one side, lay them directly in the microwave then heat for 1 1/2 mins.) Chop them up.
In a frying pan, heat olive oil over high heat. Saute chopped Breakfast Links until slightly brown. Remove from the heat.
Add basil pesto to coat the "meatless meat" well. Then add all purpose flour, again coat well.
Pour in milk, heat it over high heat and cook until it gets thicker stirring continuously.
Add salt and pepper to taste.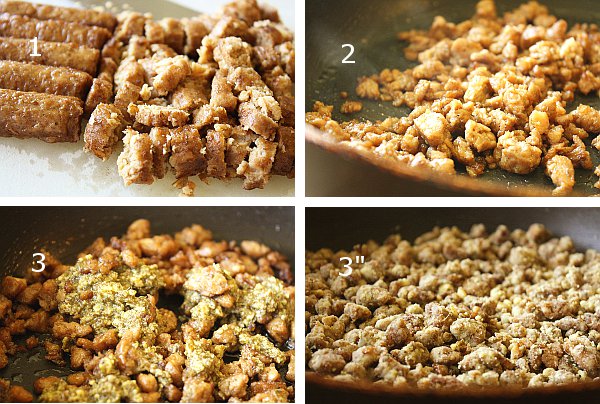 Do you hear the sizzle?
This is not real meat that gives off a super appetizing smell as you cook, but it makes a remarkable difference in taste and texture if you are patient and cook until it's brown.
For anything that requires flour coating in the cooking process for thickening, I like turning off the heat and taking time in blending the all purpose flour in the food.  Just take your time and add a little TLC to make even a simple meal special.  Well, that sounds good, doesn't it?  It actually works for me as a cooking meditation.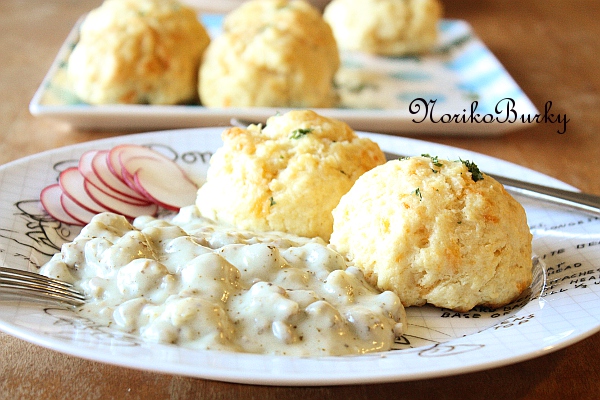 When we have an easy comforting food like this, I choose this set of kid-friendly fun plates.  There's a sketch of Donald Duck on one and Pluto on the other.  They always add a happy atmosphere to the table.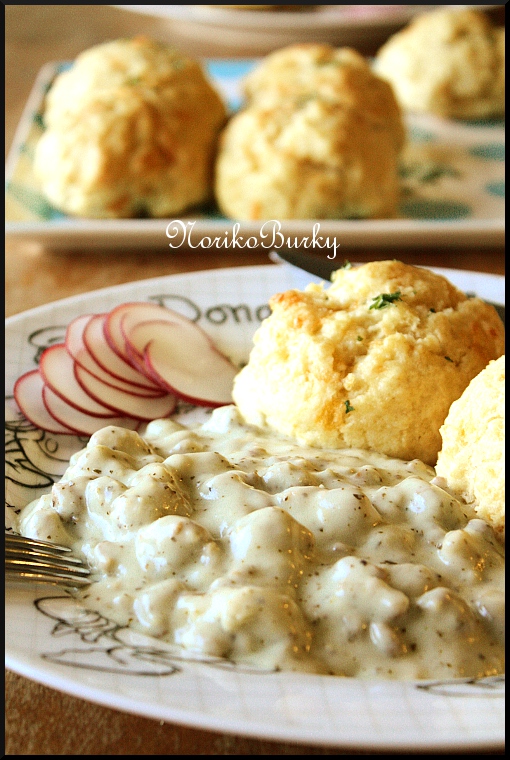 I'm gonna have to talk about those super puffy biscuits you see in the picture in the next post.  These came out as the BEST biscuits I ever made, ever!  Just stay tuned!