My dad worked as a car mechanic for more than 50 years until he retired a few years ago. He had his own shop right next to the house, and I spent a lot of time there as a child.
Every fall, he goes to the mountains to pick wild mushrooms.  He comes home with a couple bagfuls of at least five different kinds of mushrooms. I went with him sometimes, but all the ones I pointed out were not edible/poisonous. I soon realized that good-to-eat mushrooms are the ones usually hidden under fallen leaves.
Since not many people could tell edible wild mushrooms from non-edible ones, his harvest was always well appreciated by our neighbors.  Then they would kindly return the favor with something from their hobby/specialty.  I miss those days.
It's been a while since seasonal vegetables – not only mushrooms – became available at stores all through the year.  Although there are voices worrying about people losing their sense of the seasons, I enjoy taking advantage of farming revolutions 🙂
Shimeji mushrooms are one of my family's favorite mushrooms.  Those tiny heads on top of long plump stems are pretty resilient in cooking.  Also, they don't absorb too much sauce like button mushrooms or shiitake mushrooms.
Japanese Cheese-Melt Open Sandwich
-with Japanese BBQ Stir-Fried Veggies-
-Ingredients for Japanese BBQ Sauce-


*Rayu is a spicy sesame oil and comes in a small 1 oz bottle.
Mix them all well…
Shimeji mushrooms look like this.
Aren't they darling?

| | | |
| --- | --- | --- |
| Japanese Cheese-Melt Open Sandwich | | |
Author:
Stir-fried vegetables mixed in homemade BBQ sauce. Toasted on ciabatta bread with a slice of cheese.
Ingredients
1pkg (3.5oz) Shimeji mushrooms
1/2 red bell pepper
1/2 green bell pepper
1Tbsp salad oil
salt & pepper
2Tbsp oyster sauce
3Tbsp ketchup
1 1/2Tbsp soy sauce
1 1/2tsp garlic paste
5-6drops la-yu
1tsp white sesame seeds
1Tbsp margarine
2 ciabatta bread
4 slices of provolone cheese
1Tbsp chopped parsley for garnish
Instructions
Cut off about one inch from the bottom of the Shimeji mushrooms. Separate stems gently.
Cut bell peppers into 1/8 inch strips.
In a small bowl, mix all the ingredients for the sauce. Set aside. Heat salad oil in a frying pan over high heat. Stir fry the mushrooms and bell peppers. Add salt & pepper lightly.
Add the sauce. Remove from the heat and mix the sauce in with remaining heat.
Cut ciabatta bread in half cross wise. Spread margarine lightly. Put the cooked vegetables and lay provolone cheese on top.
Toast them for 3-4 mins or until the cheese melt to your taste. Garnish with chopped parsley.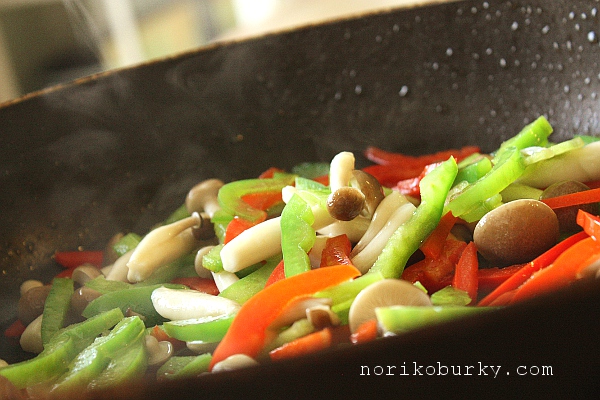 I spread margarine on the bread in order to avoid liquid from the veggies making them soggy.  You can also use mayonnaise and/or Dijon mustard instead.
We had chilled potato soup and a simple salad with the sandwiches.
It's hard to believe that a jacket was needed to go outside last week, now it's above 80 degrees.  My favorite time of the year has arrived 🙂
Chilled soup is so pleasant at this time of year.
I said it's dinner time, not LEGO time…
Wanna bite?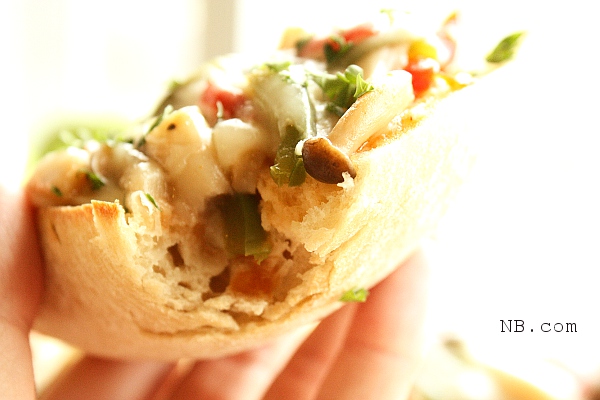 We replaced our old Hummingbird feeder with a new one.
Not so sure if they'll come back with our curious kitty, Genji, being on guard.